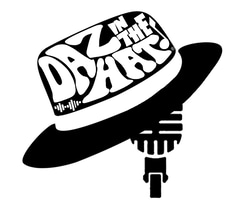 Daz In The Hat Radio is entirely run by volunteers Please support us by donating via Ko-Fi
Would you like present a show on Daz In The Hat Radio?
A BIG Thank you goes out to Green Eyed Records (GER) For supporting Daz In The Hat Radio by covering the cost of our PRS Licence.
Read Our Latest Newsletter Here
Daz In The Hat Radio Broadcasting All Around The World
By Way Of The Internet 24 Hours A Day 7 Days A Week
Should you have any concerns about content of any of our shows contact us on: radio@dazinthehat.com
Music Submissions:
Please Click HERE
While we make every attempt to keep to our schedule sometimes, due to technical & steaming issues beyond our control on odd occaisons shows may play out of sequence.
Due to this We do endeavour to monitor Daz The Hat's playlist to correct any problems
Like 2 Tickets to Music For The Head & Hearts September superb showcase - West Coast Meets West Yorkshire?
Please bare with us on the rare occasions the station is off line, this will be due to us making changes to our schedule & brining you even more great music.